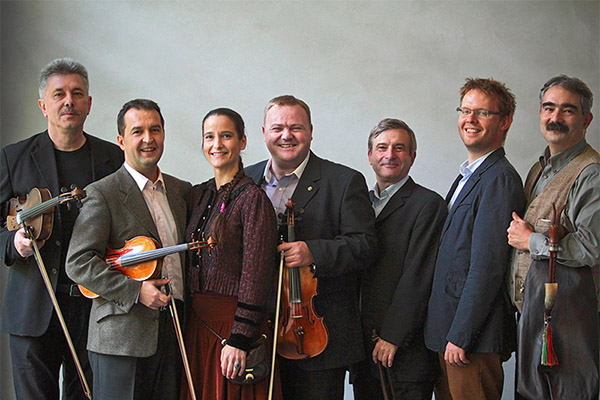 The Fonó Folk Band
The members of the Fonó Folk Band have been working together since 1997 in Budapest . Band members are devoted to the performance, teaching and researching of authentic folk music at a professional level. Their musical repertoire consists primarily of instrumental and vocal folk music and true- to-tradition arrangements of the instrumental and vocal folk music of the peoples of the Carpathian Basin .
Fonó musicians also deal with research and fieldwork in ethnomusicology and apply the experience and information gained in the field in the shaping of their musical image. Experiencing and collecting the music of authentic village musicians (drawing from the ancient source) has enabled them to transform this energy into high quality performance perceivable on their recordings and concert tours. The Fonó Folk Band stands apart from other folk bands in Hungary with the rich sound achieved by the variety of instruments and masterful method of playing. In addition audiences can enjoy not only Hungarian folk music at their concerts but exceptional interpretations of the authentic folk music of other ethnic groups in the region (Slovakian, Rumanian, Jewish, Gypsy, Ruthenian and Croatian). Members of the Band individually and as a whole also venture into other musical genre and can be heard on numerous recordings in cooperation with artists of classical, modern jazz, pop, world music and authentic klezmer music.
Regular permanent members of the Fonó Folk Band are:
Andrea Navratil - vocal
Gergely Agócs - vocal, dance, tárogató, Hungarian bagpipe, fujara, shepherd's flute
Tamás Gombai - violin, second violin
István Pál "Szalonna" - violin, tambura
Sándor D.Tóth - viola, hurdy-gurdy, hit-cello, drum, lute, zither
Bálint Tárkány-Kovács - dulcimer
Zsolt Kürtösi – double bass, cello, accordion
On occasion the Band will also invite guest performers (i.e. dulcimer player) to enhance the sound for concerts or special recordings. Upon request concert performances can be complemented by short dance performances (i.e. one or two professional dance couples) or "táncház"- style dance party with the involvement of the audience.
The Fonó Folk Band also gives "Educational Concerts" where children can become familiar with the characteristic instruments and melodies of traditional music in the Carpathian Basin (recommended for children aged 8-12). For secondary school or university students with some musical background "Folk Music for Students" is a presentation of the development of Central European folk music lore and depicts the reciprocal effect of composed music and folk music on each other through the various periods of European art history. The Fonó Folk Band also provides instruction and professional supervision of instruction for aspiring young musicians in the scope of folk music workshops and musician courses (i.e. the musical direction of the Folk Music Camp sponsored by the Association for Hungarian Folklore in Slovakia .)
Discography:
Sok szép napot éjszakával [All the good days and nights] – Honvéd Ensemble production, Bp.) 1998.
Árgyélus kismadár [The Little Bird Árgyélus] - Hungarian folk music from Southern Slovakia (with Gyöngyi Écsi) (Fonó Records, Bp), 2000.
Musique de danse Hongroise – Anthology of Hungarian folk music (Buda Musique, Párizs), 2001
Mixtura Cultivalis – Folk music from the Carpathian Basin (Fonó Records, Bp), 2002
Other Side - Art Music and its Folk Roots with Vilmos Szabadi and Márta Gulyás (Hungaroton Classic, Bp.), 2004
Hateha - Hungarian Dance House Music (Fonó Records)
Wildbaroque - Living tradition of baroque music in the Carpethian Basin (Fonó Music Hall), 2012

Recent Major Concert Performances:
2001 : Sofia , Bulgaria – in Naroden Dvorec na Iskustavata (The National Centre for Culture)
Sigmaringen , Germany – live radio recording open to the public at the SWR concert studios
Paris , France – new record release concert in the concert hall of the Maroqinerie Literary Café (September)
Paris , France – "Táncház" open dance party at the Theatre National de Chaillot and concert at the Theratre de Rond Point (December)

2002 : Gyimes and Moldavia , Rumania – concert tour in the ethnic Hungarian Csángó villages in Gyimes and Moldavia
Nürnberg , Germany – Meistersingerhalle, performance in the concert series "Go East!"
Sammatti, Finnland – concert in the birthplace of Elias Lönrott to commemorate the 200 th anniversary of the researcher's birth
Vienna , Austria – concert in the Museumsquartier
Rome , Italy – Romaeuropa Festival at the Villa Medici, concert and "táncház" at the opening of the festival
2008:
Gstaad (Switzerland) - concert on the Menuhin Festival with violin virtuoso Volker Biesenbender
Warsaw - concert on the Warsaw Festival

Magyar változat: